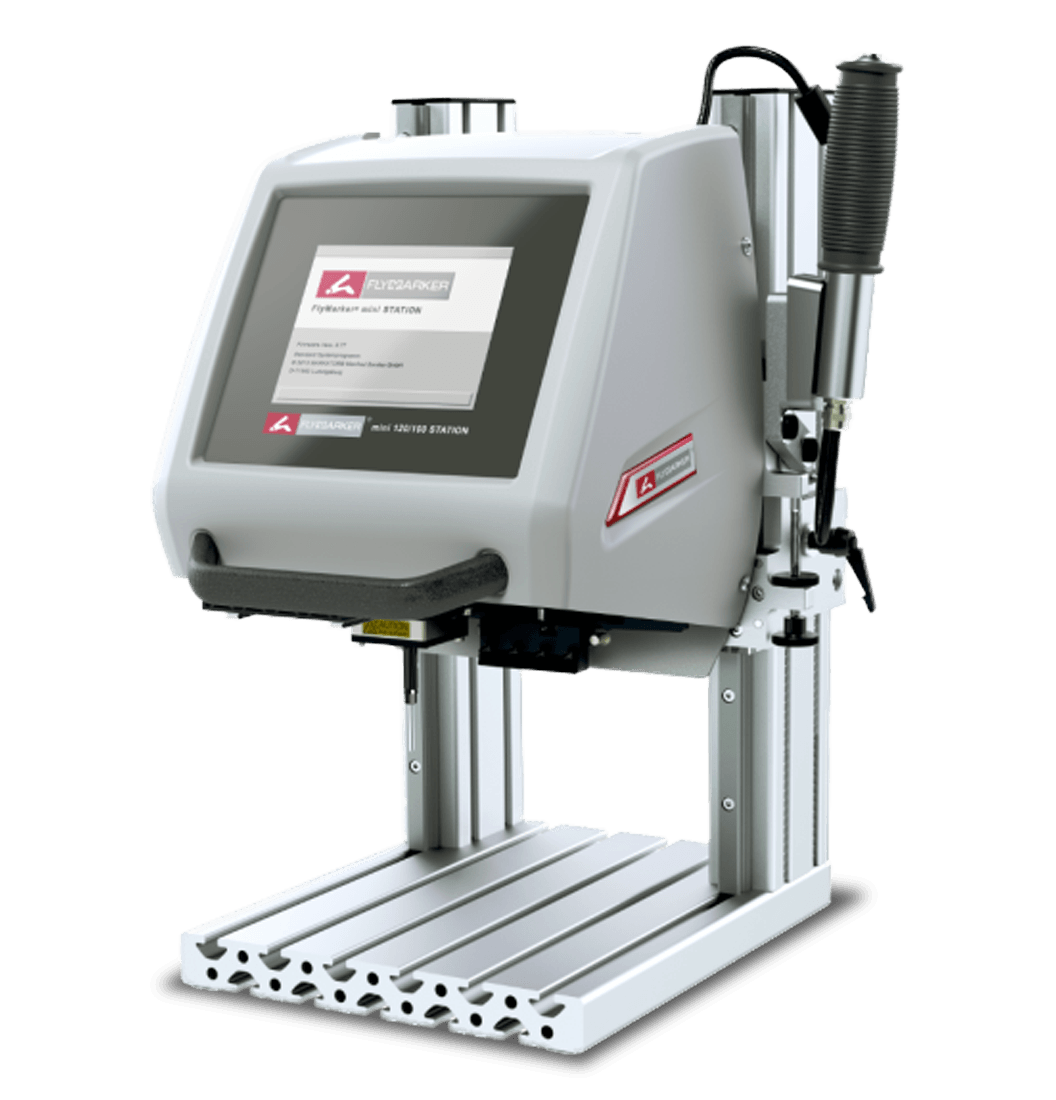 FlyMarker mini 120/100 STATION
Plug and play: Benchtop marking system
Are you looking for benchtop marking system or are there any Mini-marking system in your fleet, but there are a lot of small pieces to mark? FlyMarker Mini now available in a full benchtop format and with large marking area, with a completely similar interface! If you mark small pieces or type plates, here is the perfect device for your needs.
The most affordable benchtop marking system for precise markings.
Complete equipment for CE-plate marking and permanent marking of small parts.
The base of the Flymarker MINI 120/100 STATION model is easily applicable to various jigs and racks. The system is fully electrically operated; the interface of the device is very easy to use.
The FlyMarker Mini STATION is equipped with a very user-friendly interface and has a large marking field of 120 x 100 mm. Due to its integrated control, the benchtop marking device as an all-in-one system is the ideal partner for your workshop.
FlyMarker Mini 120/100 Station
For effortless marking of rating plates and small parts
The fully electrically operated FlyMarker Mini 120/100 STATION benchtop marking system allows easy marking of small pieces. With the FlyMarker STATION device, marking is fast, data can be conveniently entered with the USB keyboard. The simplified user interface and the Finnish/English instruction manual enable easy application. The maximum marking field is up to 120 x 100 mm. Thanks to the All In One system with integrated control, the benchtop marking device is the ideal partner for your workpieces. Its high-quality guide system gives maximum stability and ensures high marking quality. The system is rounded up by its attractive price-performance ratio.
We offer financing solutions for our customers. Leasing may be an option to consider if your company needs a new equipment.
For more information about financing possibilities, refer to it in your request for quotation or send us a message using our contact form.
MACHINERY AND DEVICE LEASING